Rental Kitchen Owners and Operators
Ghost kitchen rentals are something you may or may not have heard of unless you work in the food service industry. That being said the people behind Airport Ghost Kitchen have been involved in food service, preparation and restaurants for almost four decades. When you are looking for a commercial kitchen venue to use for your catering or special event, rest assured you'll be dealing with people who know `how important the right equipment is.
We've been in the same place. We've fought against deadlines and done whatever it takes to prepare and serve great food to our clients from carts, trucks, quick-serve or sit-down restaurants. We've created a special space in the San Fernando Valley with professional kitchen equipment and space (4,500 square feet of it) with walk-in cooler, freezer, dry storage space and prep room.
Meet Our People
Carlos Vargas, chief advisor: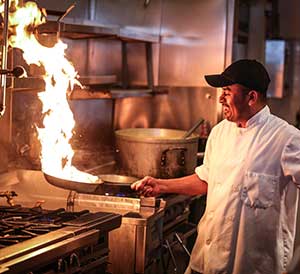 Carlos is a renowned chef who got his start working in Los Angeles restaurants right out of high school. Like many other talented chefs he worked his was up from simple prep work to sous-chef to head chef of his own catering company.
Carlos' Mexican heritage shines through in most of the dishes he prepares now, putting his own unique touch of family favorites like pozole and enmoladas (enchiladas in mole sauce). He is no stranger to other cuisines either, having studied French cooking along the way. Even though his heart will always be in Mexico, the flavors of France hold a special place for him too and he's won awards for things such as his rendition of coq au vin and an extra special buche de noel which he prepares for Christmas catering clients.
Carlos was the main advisor during the planning and development of Airport Ghost Kitchen, making sure that the equipment purchased for this rental kitchen in Los Angeles was not only on par with other commercial kitchens, but exceeded them. He wanted to creat a space and experience that he as a chef would like to see and that's what was ultimately created.
Manny Alvarez, advisor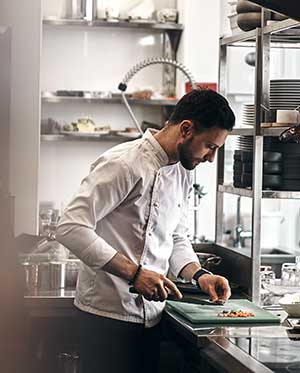 Another talented chef with a family background in Mexican cusine, Manuel "Manny" Alvarez was in love with pastries from a very young age. His first exposure to pastries was in his grandmother's kitchen, watching her make conchas or pan dulce. When he was a teenager he joined his mother and grandmother in creating these traditional Mexican sweet breads. After graduating from Taft High School, Manny started working on a local bakery. After a few years he began experimenting with French pastries and expanding his repertoire into desserts of all kinds.
Manny has joined forces with Carlos on many occasions when a catering job called for decadent pastries or other sweet treats. Manny will leave the buches de noel to Carlos, since that's a signature Vargas dessert, but in all other aspects, Carlos lets Manny take charge of the desserts.
Because of their collaboration over the years, Carlos invited Manny to give his input into the design of Airport Ghost Kitchen. Manny made sure to add his two cents from the perspective of a baker, making sure that the facilities included equipment that he himself would use to create, among other things, his lighter-than-air eclairs.
Both chefs were instrumental in the design and layout of Airport Ghost Kitchen. Both are also San Fernando Valley natives and are proud to be associated with a top-of-the-line commercial rental kitchen in the Burbank/Glendale/North Hollywood area.
You'll also find our other staff helpful and accommodating from the moment you call us to when you arrive to prepare your creations in our state-of-the-art facility. We are ready to provide for your cooking needs on a daily, weekly, monthly or yearly basis. Just call us and let us know how we can serve you as you serve your customers from this magnificent kitchen.