Airport Ghost Kitchen is proud to offer commercial cloud kitchen rental to all of Los Angeles including much of the San Fernando Valley. We are a state of the art shared-use rental kitchen and our location makes us extremely convenient to Burbank, Glendale, Los Angeles, Hollywood, Studio City, Van Nuys and more. The cities and locations we can serve include:
Los Angeles is third in population in the United States. The city (originally named El Pueblo de Nuestra Señora la Reina de los Ángeles del Río Porciúncula or in English "The Town of Our Lady the Queen of the Angels of the River Porciúncula") was founded on September 4, 1781. The first Spanish governor was Felipe de Neve. It was founded on the preexisting village of Yaanga inhabited by indigenous peoples before the arrival of the Spanish. Los Angeles (or as locals have shortened the name to, "L.A.") is now famous for the Los Angeles Rams football team (2021 Superbowl champs), and the Los Angeles Lakers basketball team whose players have included legends such as Kareem Abdul Jabbar, Magic Johnson and Jerry West.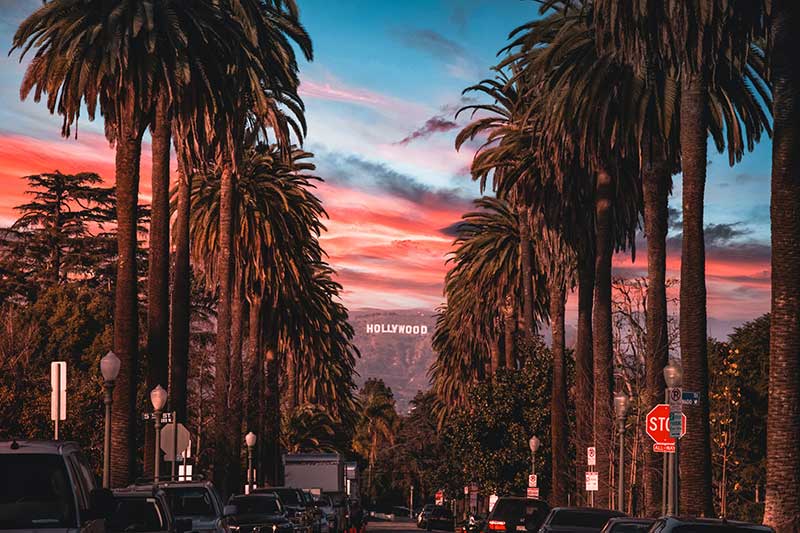 Directions to Airport Ghost Kitchen from Los Angeles
Burbank is often called the media capital of the world and for good reason. Burbank is famous of course for movie studios such as Warner Bros. and Walt Disney Studios among other film industry companies and many post production facilities make their homes here. The city's history like much of the state of California goes back to the Spanish expedition of the late 18th century, but from the late 19th to the early 20th century it took the name it now bears from the dentist and land speculators David Burbank who purchases much of the land which eventually became what we know as Burbank. Burbank has another claim to fame as the site of the Lockheed plant which produced many of the aircraft used during World War Two. Indeed, the Burbank Airport was a part of the Lockheed facilities and so our cloud kitchen shares a tie to this piece of American history.
Directions to Airport Ghost Kitchen from Burbank
Glendale is a city located in Los Angeles County, California, in the United States. It is the third largest city in Los Angeles County and the 23rd largest city in California. As of the 2020 census, the city had a population of approximately 204,000 people.
Glendale is known for its vibrant arts and culture scene, as well as its thriving economy. The city is home to a number of popular attractions, including the historic Alex Theatre, the Forest Lawn Memorial Park Cemetery, the Brand Library & Art Center, and the Americana at Brand shopping center.
Glendale is also home to several large companies, including Nestle USA, DreamWorks Animation, and IHOP. The city's economy is diverse, with major industries including healthcare, finance, and technology.
In terms of education, Glendale is served by the Glendale Unified School District, which includes several highly regarded public schools. The city is also home to a number of private schools, including the prestigious Glendale Adventist Academy.
Overall, Glendale is a thriving and diverse city with a strong economy and a rich cultural heritage. Whether you're interested in arts and culture, business, or education, Glendale is a great place to live, work, and explore.
Directions to Airport Ghost Kitchen from Glendale
Eagle Rock is a neighborhood located in the northeastern part of Los Angeles, California. It is situated in the San Rafael Hills, bordered by the neighborhoods of Glendale to the north and east, Pasadena to the northeast, Highland Park to the southeast, Glassell Park to the southwest, and Mount Washington to the west. Here are some key points about Eagle Rock:
Residential Character: Eagle Rock is primarily a residential neighborhood known for its diverse community and charming, tree-lined streets. The area features a mix of architectural styles, including Craftsman, Spanish Colonial Revival, and Mid-Century Modern homes.
Occidental College: One of the prominent institutions in Eagle Rock is Occidental College, a private liberal arts college founded in 1887. The college campus covers over 120 acres and is known for its beautiful architecture and picturesque surroundings.
Colorado Boulevard: Colorado Boulevard is the main commercial street in Eagle Rock, featuring an array of local businesses, restaurants, cafes, and shops. It provides a vibrant hub for residents and visitors alike.
Occidental Boulevard: Another important thoroughfare in the neighborhood is Occidental Boulevard, which runs through the heart of Eagle Rock. It is lined with a mix of commercial establishments and residential properties.
Eagle Rock Plaza: Eagle Rock Plaza is a notable shopping center in the area, offering a range of retail stores, restaurants, and a movie theater. It serves as a convenient shopping destination for residents of Eagle Rock and surrounding neighborhoods.
Natural Beauty: Eagle Rock is known for its natural beauty and outdoor spaces. The neighborhood is home to the eponymous Eagle Rock, a large rock formation that serves as a local landmark. Additionally, residents can enjoy parks like Eagle Rock Recreation Center and Ernest E. Debs Regional Park, which provide opportunities for outdoor activities and picnicking.
Community Involvement: The Eagle Rock community is actively involved in local events and organizations. The Eagle Rock Neighborhood Council, a governing body elected by residents, works to address community concerns and facilitate communication with the city government.
Eagle Rock's unique blend of natural beauty, academic presence, and community spirit makes it an attractive place to live for many residents in the Los Angeles area.
Directions to Airport Ghost Kitchen from Eagle Rock